FloodBags® are a cost-effective ideal solution for flood control - "flat packed" for easy storage they can be rapidly deployed without the need of using sand, making them an alternative to conventional sandbags which are inherently heavy and bulky, difficult to transport and require considerable manpower to deploy often compounded by the need for fast reaction and distribution.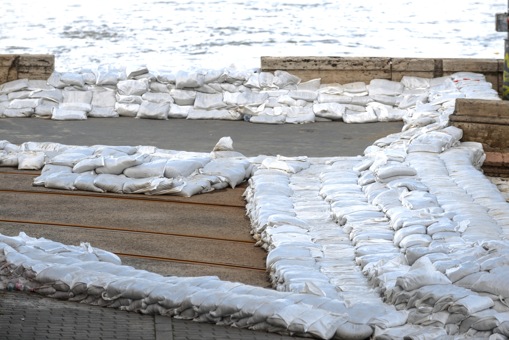 FloodBags® are an innovative and revolutionary, convenient and easy-to-use alternative to sandbags for emergency flood defence protection against a river and coastal flooding and spill management. FloodBags help stop water in its tracks. Unlike other flood defence bags, FloodBags have a semi-porous inner liner that contains a unique Super Absorbent Fibre (SAF) which absorbs water to 90% capacity in just 3 minutes creating an inflated "sandbag". Once the water is absorbed, it is retained within the bags acting just like traditional sandbags helping keep floods at bay. They are designed to be placed at every door, window and airbrick in your property to hold back floodwater and protect your property helping keep floodwater out.
FloodBags® provide an effective barrier against the threat of floodwater on domestic and commercial buildings.
The single-use bags are easy and safe to use, store and deploy. Taking just 3 minutes to absorb water when the floods hit and swelling to about 20Kgs. Before inflation they weigh around 300g making them easy to move and store, taking up very little space.
Once fully inflated the self-inflating floodBags are used just like traditional sandbags and once used can be left to dry out and then easily disposed of without the environmental impacts of traditional sandbags. Once the water is in there, it stays there and the bags act just like sandbags to keep floods at bay. They are designed so they mould into doorways to keep floodwater out.
Our Standard Packs and Boxes can be stored in a garage or under the stairs for quick deployment.
We can supply these in varying quantities, so if you require an amount not listed on our website please contact us.